On May 16, 2023, Richard L. Thies was honored posthumously by the Illinois Judges Foundation and the Illinois Bar Foundation for his exemplary law career.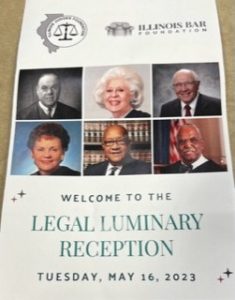 Past Illinois State Bar Association President, Donald C. Schiller of Schiller DuCanto & Fleck, Chicago provided the introduction of Richard L. Thies. Schiller followed Richard Thies as ISBA President.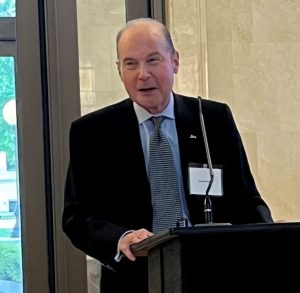 Donald Schiller presented the Illinois Bar Foundation/Illinois Judge's Foundation Legal Luminaries Award to Webber & Thies Shareholder, John Thies, who accepted on behalf of his father, Richard L. Thies.
John Thies offered remarks on behalf of his father.
Other honorees included James D. Montgomery, Chicago, a former member of the University of Illinois Board of Trustees and Corporate Counsel for the City of Chicago. Jim and Richard Thies were Moot Court partners while students at the University of Illinois College of Law.
Honoree, Justice Rita B. Garman (Ret.), Danville, the second woman to serve on the Illinois Supreme Court accepting her award:
Justice Milton S. Wharton (Ret.), St. Clair County, of the 5th District Appellate Court offered remarks in accepting his award:
Of the more than 160 who attended the event at the Illinois State Library were a number of Illinois State Bar Association leaders. This photo includes past presidents John G. Locallo, Chicago, John E. Thies, Urbana, the Hon. Vincent J. Cornelius, Joliet, and Dennis J. Orsey, Granite City. It also includes current and former ISBA Board of Governors members Perry Browder (ISBA 3rd VP-elect), Alton; Bridget Duignan (ISBA 3rd VP), Chicago; the Hon. April Troemper, Springfield, Sarah Toney, Chicago, Michael Bergmann, Chicago, and Heather McPherson, Freeport.